क्यों सोमवार को ही शिवजी की पूजा करना अधिक लाभदायक होता है
Seven days a week some worship God, to worship and fasting on the day of Monday, according to Hinduism Prmpraon is dedicated to Lord Shiva. It is believed that Shiva's devotion every moment is auspicious. If sincere worship of Shiva devotees soon become complacent. Why today is more profitable to worship the Shiva? Let us know certain things about it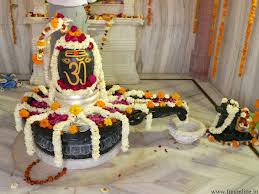 Someshwar vow vow to be held on Monday, is known. Its religious significance also is the worship of the moon day there are formidable. Someshwar are two meanings of the word in our scriptures. The first meaning – ie Moon Mon. And lent his voice to worship the moon god. Someshwar second meaning of the word-that God, your God, whom Somdev also considered. The service of God-worship, and the god – the god Shiva.
According to mythology this fast and worship Lord Shiva worshiped by Somdev. Somdev healthy again and found that their beauty. Lord Shiva was much pleased dooj the accusative date as the moon took the crown in his dreadlocks.
That's why so many sages and saints and religion in the tradition of fasting have been worshiped Shiva as it Chandradev to worship Lord Shiva is also worshiped. Due to religious faith and tradition from ancient times on Monday lent too many people today worship Lord Shiva and Parvati are worshiped over the moon, but it became famous for the worship of Lord Shiva. Kamnapurthy sincere worship of Lord Shiva and is a pleasure.